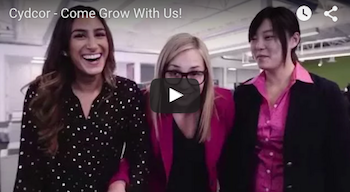 Be sure to watch Cydcor's latest video on YouTube here:                                  
https://www.youtube.com/watch?v=JoK7QYu-MLY!
Cydcor is the largest provider of outsourced sales services in North America. Serving Fortunate 500 and emerging market clients through business-to-business, residential, and retail sales channels, Cydcor works with a network of more than 350 independently owned sales offices
. Cydcor fuels the growth of its clients' businesses via sales force that achieves results traditional marketing strategies cannot attain. Cydcor is trusted by its clients to represent their brands with integrity and quality.
Cydcor specializes in sales to the business-to-business, consumers, and retail channels. Cydcor employees have opportunities for various professional trainings, business conferences, and individual recognition. At Cydcor, hard work is appreciated and rewarded. Learn more at
Cydcor.com
and be sure to like us on 
Facebook
 and follow us on
Twitter
for our most recent company updates.