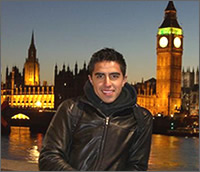 Here's the reality. KPMG clients and the capital markets are becoming more international every day. Business is moving towards a set of common global accounting standards and our professionals have to be ready to meet the needs of our clients, wherever they are in the world.
With KPMG's award-winning Global Internship Program (GIP), you can work abroad and see what it really takes to be a global professional. The GIP gives you the opportunity to gain work experience with two KPMG firms. You'll begin your internship here in the U.S. then spend four weeks on global assignment.
While overseas, you'll work side by side with our international teams on major client accounts. Don't be surprised that when you come back, you'll have developed new skills that will make you even more valuable in the business world.
Go On Location
Wondering where you can go with KPMG? How about anywhere you want.
GIP interns have traveled to every continent except Antarctica! Through their videos, journals, and photos, our interactive flash site lets you see what really happens when you go global with KPMG.
Internship Journals
Global interns work around the world. Read some of their stories in their own words.
By The Numbers
Facts about the GIP
Applying For The Program
Once you accept your KPMG internship offer, you can apply for the Global Internship Program. Whether you're planning to work in audit, tax, or advisory, we offer GIP positions in all practices. You can expect to receive the online application about four months before your internship.
Managing the Details
Making your own plans to live and work abroad isn't easy. That's where we come in. Global Opportunities (GO) is an essential part of KPMG's business. We've been running a successful global mobility program for years, for short and long term international assignments.
People Are Talking
Read what some people are saying about KPMG.