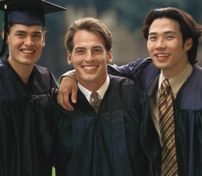 "I learned to be resourceful, adaptive, flexible and independently responsible," says Sarah Biggers. "I learned to respect and appreciate unfamiliar cultures and came back with a revitalized sense of pride for America."
Biggers is reflecting on the ten weeks she spent abroad -- seven countries in four weeks followed by six weeks at Oxford in England -- in the summer of 2012.  In addition to the benefits described above, she says this experience helped her land an "amazing internship at a growing [Atlanta] startup." Today, Biggers is the director of human resources for CodeGuard.
There are many attractions to studying abroad, like seeing historic places and works of art with your bare eyes, or enjoying ethnic food you've only had replicated at home. When it comes to the working world, though, there are additional benefits to this experience that might not come to mind so quickly. We spoke to several people in different professions about how studying abroad in school has helped them in their professional life.
From the graphic designer
"My experience abroad challenged my confidence, social skills, and problem-solving skills -- all of which are abilities employers look for in a potential employee," explains Hannah Buckmaster, a newly hired graphic designer at Milwaukee firm Hare Stirgenz, Inc. Buckmaster studied abroad at the Santa Reperata International School of the Arts in Florence, Italy.
"My summer abroad also taught me to be comfortable talking about accomplishments, my interests and my adventures -- a necessary skill during an interview. ... As a whole, my time in Italy not only prepared me for the hard work and perseverance it takes to be an employee in the real world, but it also helped me differentiate myself from other job candidates," she says, noting it wasn't all just about finding the best local gelato.  
From the events manager
Networking might not be the initial reason students set their eyes overseas, but Samantha Moonsammy says it's one of the best long-term benefits to her time at the University of the West Indies in Barbados.
"Studying abroad is a unique opportunity to broaden your network of contacts," says Moonsammy. She took advantage of her stay in the Caribbean to attend events in her academic community and with the local government. At these events she met business professionals in her field. "We continue to stay in touch via Facebook and LinkedIn and it has been an incredible resource for information sharing, networking and work opportunities."
Today, Moonsammy is an owner of Ottawa-based Starfish Creative Events and Inspiration. Her company does "many events in collaboration with the Barbados Tourism Authority and [the] High Commission for Barbados."
From the CEO
"I studied in Augsburg, Germany for [two] years and it provided me with an amazing experience to truly understand different cultures and their unique communication patterns," says Keith Scott, CEO of the Baltimore County Chamber of Commerce. He credits this understanding with his ability to do his job successfully today, because he regularly has to interact and communicate with people from various backgrounds.
Further, Scott has used this knowledge to help him teach public speaking to people via his own company, TALLspeaking. He feels his time in another culture gave him an "ability to relate and understand the human dynamic."