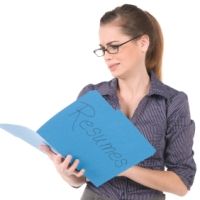 Preparing your first résumé can be a daunting task: You've got little work history to share and you're unsure about what else you need to include. Ultimately, it's important to convey your skills and eagerness to land your first job to employers, say experts. Most employers won't expect you to be an expert and are just looking for a concisely written one-page sheet that accurately shows off your skills and potential.
Putting together a résumé can take longer than you think. Make sure to gather appropriate materials and take several weeks to think about the message you're trying to convey. "Résumé writing is so much more than just a listing of information," says Wendy Enelow, author of "College Grad Résumés to Land $75,000+ Jobs."
Here are seven things to keep in mind before putting together your first résumé:
1. Try an info-gathering activity
Before writing your résumé, boil down each of your previous job experiences or school projects to a few keywords, suggests Sherry Mirshahi, president of Interview Roadmap and career expert. Use these keywords to help you summarize your skills at the beginning of your résumé. Grads "should pick up to 10 keywords to feature under after their first section of their résumé - typically, this will be the Education section for new grads," she says. Understanding your skills can also help you sell yourself better during an interview.
2. Focus on accomplishments
Describing your previous work or internship responsibilities is useful, but employers are more interested in understanding what you've been able to accomplish at each job. Instead of writing "File documents for office manager" mention that you were "able to do this in half the time typically required for this type of task," Mirshahi says. "New graduates must learn to add in more details and explain the context in which they completed their tasks to show how they added value." 
3. List info about related coursework
While your Writing 101 course isn't something that will help your résumé standout, adding in information about special coursework or long-term projects that are related to your field can help you impress employers.
"If they had to write a major paper that is in some way related to the job they want, they can give a summary of it," Mirshahi suggests.
4. Avoid a one-size-fits-all résumé
Instead of creating only one résumé to send out to employers, make sure that you can tailor the experience portion to specific positions and plan to write a few versions. "A certain job may place great emphasis on requiring past volunteer experience. Ordinarily, one wouldn't list this type of experience near the top part of the résumé," Mirshahi says. "A new graduate would want to highlight it by including it as one of the bullet points after the Objective or Career Summary section."
5. Make it relevant
While you're thinking about what you'd like to share in your résumé, it's important to narrow down the aspects of your professional life that can truly help you land a job. "No one cares about middle school," Enelow says.
6. Understand the goal
"The true purpose of a résumé...is marketing - pure and simple," Enelow says. "Job seekers have a product to sell - themselves - and they have to effectively package, position and merchandise that product to attract the right buying audience." As you think about each part of your résumé, it's important to see how it fits into the larger message that you're looking to send to employers.
7. Think about contact information
While many résumés list an e-mail, phone number and address, it's important not to overload the hiring manager with too many alternate phone numbers and to keep your identity safe if you're applying for jobs online. "I generally recommend that students omit their mailing addresses since so much of their search will be online and they want to avoid any potential identity theft," Enelow says. "Only time to leave an address on is if you want to stay local so that people can see you're already there and relocation will not be an issue."